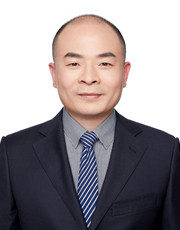 Zhiyong Yang
Office: Room 317, Glorious Sun School New Building
Email: yangzhy@dhu.edu.cn
research interests: scientific history of marketing, evolution of business
INTRODUCTION
Dr. Zhiyong Yang (Stephen) is a Lecturer at Department of Business Administration, Glorious Sun School of Business and Management of Donghua University. His research interest includes evolution of business, scientific history of marketing, cognition and decision-making. He is now teaching Product Management, Introduction to Marketing, Orgaizitional Behavior.
Education
2011 Management Science and Engineering, Donghua University, Ph.D.

2002 Cognitive Psychology, East China Normal Univeristy, M.S.

1999 General Psychology, East China Normal University, B.S.
Work Experience
2014.06-2017.06 Vice Chairman of Business Administration Departmen
ACADEMIC ACHIEVEMENTS
Journal Papers
Yang, Z., & Gao, C. (2012). Ranking marketing journals by using social network analysis. Advances in Intelligent Systems and Computing, 136: 623-629.

Yang, Z. (2010). A study on the definition of management. Chinese Journal of Management, 7(9): 1277-1281.

Yang, Z. (2009). 30 years' domestic marketing research: Topics and trends. Economic Management Journal, 30(9): 111-118.

Cui, L., & Yang, Z. (2002). The effect of family foster care on orphons' social growth. Psychological Science, 25(1): 37-39.

Liang, N., Yang, Z., & Zhang, Z. (2001). Metacognition and problem solving strategies. Psychological Science, 24(3): 280-282.
Chapters, Academic Books, and Textbooks
Yang, Z. (2010). The Way to the Future: Researches on Fashion Brand Value in China, Tsinghua University Press.

Yang, Z. (2009). The History of Chinese Academic Marketing Research, China Financial and Economic Publishing House.

Yang, Z. (2008). New Product Development, China Textile & Apparel Press.

Yang, Z. (2002). Memory and Forgetting/Thinking(Two Chapters), Peking University Press.
TEACHING COURSES
Undergraduate: Product Management, Introduction to Marketing, Organizational Behavior
SOCIAL SERVICE
Academic and Social Posts
Member of Democratic League Committee of Donghua University
Academic Association Memberships
Member of Youth Intellectuals Association of Changning District