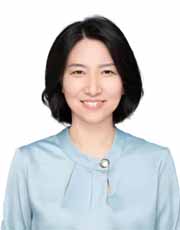 Xinmin Yuan
Office: Xuri Building 727
Email: dhdxyxm@126.com
research interests: fashion & creative industry development
INTRODUCTION
Dr. Xinmin Yuan is working in the School of Management, Donghua University as an associate professor and Master supervisor, mainly engaged in fashion and creative industry development, creative talent flow and other related fields of research,.She has presided over 7 national and provincial fund projects, published more than 20 academic papers in Both Chinese and English, and 2 books as well. She has been to the University of Leeds in the UK and Monash University in Australia for visiting research. She is now a reviewer of the National Natural Science Foundation of China.
Education
2010.09-2017.07 Business Management, Donghua University, Ph.D.

2000.09-2003.06 Regional Economics, East China Normal University, M.S.

1996.09-2000.06 Economic geography, Hunan Normal University, B.S.
Work Experience
since 2008.08 Glorious Sun School of Business and Management, Donghua University, Associate Professor

2003.08-2008.07 Vocational and Technical College, Donghua University, Lecturer
Academic Experience
2017.08-2018.08 Monash University in Australia, Visiting Scholar

2012.04-2012.09 University of Leeds, Visiting Scholar
ACADEMIC ACHIEVEMENTS
Journal Papers
Yuan, X. (2018). Analysis on creative talents' spatial agglomeration effects: An empirical analysis from Shanghai. Journal of Donghua University, 25-31.

Li, K., & Yuan, X. (2018). Empirical analysis of spatial flow of creative talents on corporate performance-Based on the perspective of social relations network. Era Finance, 34-37.

Yuan, X., & Li, A. (2017). Analysis on the evolution process of creative talents gathering under spontaneous mechanism: Based on the case of dafen village. China Science and Technology Forum, 78-83.

Chapters, Academic Books, and Textbooks

Yuan, X. (2018). Research on the Spatial Agglomeration Behavior and Effect of Creative Talents in China from the Perspective of CAS, Beijing: Economic Management Press.

Yuan, X., & Zhang, H. (2016). Research on Spatial Behavior of Venture Capital: from the Perspective of Financial Geography, Beijing: Enterprise Management Press.
Teaching and Research Projects
2019-2022 Research on spatial flow of creative talents and urban integration from the perspective of endogenous impetus for Innovation, General Project of National Social Science Fund(no.19BGL130), Principal

2019-2020 The status and roles of fashion industry development in the metropolitan industrial structure(2019020032), the Financial Support Project of Shanghai Cultural and Creative Industry Promotion Office, Principal

2017-2020 Research on the spatial agglomeration and effect of creative talents in China under the framework of S-P-E analysis, Cultural and Social Science Planning Fund of the Ministry of Education(no.17YJAZH114), Principal

2014-2017 Application of case teaching in economic management major in colleges and universities, Educational Science Research Project of Shanghai Municipal Education Commission(no.B14011), Principal

2014-2017 Research on spatial behavior of venture capital in shaping urban space in China: from the perspective of regional innovation network(2014BCK005), General Project of Philosophy and Social Sciences in Shanghai

2014-2016 Research on space behavior of venture capital and space shaping in China(11YJC790256), Humanities and Social Sciences Youth Fund, Ministry of Education

2014-2016 Research on spatial behavior and spatial shaping of venture capital in the context of innovation network(41301105), National Natural Science Foundation of China Youth Project
TEACHING COURSES
Undergraduate: Macro Economics, MICE Economics

Graduate: Fashion & Creative Industry