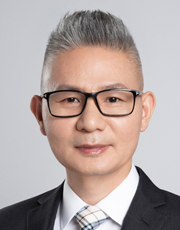 Changkui Liu
Office: Room 202, New Building
Email: ckliu@dhu.edu.cn
research interests: Financial Accounting
INTRODUCTION
Professor Liu is currently the Assistant Dean of Glorious Sun School of Business & Management and the Director of MBA programs at Donghua University. He is also a member of Shanghai MBA Education Supervisory Committee
Education
2014 Economics, Shanghai Academy of Social Sciences, Ph.D.

1999 Accounting, Shanghai University of Finance & Economics, M.A.

1992 Accounting, China Textile University, B.S.
Work Experience
since 1992 Glorious Sun School of Business & Management at Donghua University.
Academic Experience
2002.01-2002.07 Boston University, Visiting Scholar
ACADEMIC ACHIEVEMENTS
Journal Papers

Liu ,C., & Li M. (2015). Corporate governance, audit quality and earnings management, Market Modernization.

Liu, C., & Chen, H. (2015). The influence of management characteristics on the effectiveness of internal control, Productivity Research.

Liu, C., & Zhuang Q. (2014). Research on earnings management under the equity incentive system, Finance Economy.

Liu, C., & Liu T. (2012). Research on development law and mode selection of fashion industry.

Liu, C., & Sun, W. (2011). Conduction effect of corporation value affected by bod governance and financing decisions, Qiusuo.

Cao, R, Liu, C., & Cao, G. (2010). Research on identification and control of risk on competitive intelligence, Library & Information.

Shi, L, & Liu, C. (2010). The empirical study on the bond with attached warrant's announcement effect on the corporate value, Statistics and Decision.
TEACHING COURSES
Accounting, Intermediate Accounting, Financial Accounting Theory.