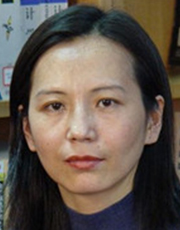 Yarong Chen
Office: Xuri Building 612
Email: yarongchen@dhu.edu.cn
Research interest: marketing,
enterprise strategies
INTRODUCTION
Yarong Chen, Female, Han nationality, was born in Jilin province in 1965, is an associate professor of business administration in Glorious Sun School of Business and Management in Donghua University. Chen is a visiting scholar at the University of Washington, and a member of a council of the China Marketing Association. The main research fields are marketing, enterprise strategies, E-marketing and consumer behavior. Chen has published over 30 academic papers, including more than 10 SSCI-indexed papers.
Education
2007 Control Theory and Control engineering, Donghua University, Ph.D.

1988 Management Engineering, East China Textile Engineering Institute, M.A.

1986 Management Engineering, East China Textile Engineering Institute, B.S.
Work Experience
Since 1988 Glorious Sun School of Business and Management, Donghua University, Associate Professor
ACADEMIC ACHIEVEMENTS
Journal Papers
Chen, Y., & Ma, W. (2016). Evaluation and research on service quality of online tourism platform. Manager Journal, (01):10-11.

Chang, X., & Chen, Y. (2016). The willingness model analysis of the third-party payment category of Mobile E-wallet. Manager 'Journal, (02):266-267.

Chen, Y., & Shun, J. (2013). Chinese time-honored brand value evaluation model. Journal of Beijing Institute of Clothing Technology (Natural Science Edition), (01):58-67.

Feng, Z., & Chen, Y. (2011). Research on formation mechanism and remedial strategies of online retail service. Prices Monthly, (10):68-71.

Chen, Y., & Guo, J. (2010). Analysis of the evaluation system of brand competitiveness under the perspective of consumers -- an empirical study based on principal component analysis. Consume Guide, (08):12-15.
Conference Papers and Presentations
Chen, Y., & Zhang, S. (2012). An empirical research on the driving factors of customer loyalty based on the service recovery situation of commercial banks, presented at International Conference on Financial, Management and Education Science.

Chen, Y., & Guo, Y. (2011). An empirical study of factors influencing customer satisfaction of decathlon sports professional supermarket, presented at International Conference on Computer Science and Service System (CSSS).
Chapters, Academic Books, and Textbooks
Chen, Y. (1997). Quantitative Analysis of Marketing Methods, China Textile Press.
Teaching and Research Projects
2009 Using Information Technological Tools for Transforming Course of Special Project (Ministry of Education Higher Education Division)

2009 Zhongtian Steel Enterprise culture construction consultation

2007 Feasibility Study of Zhejiang Shangyu Bedroom Products City Project

2006 GP Brand Market Research Project Planning

2005 Research on Franchise Model of Shanghai Bedroom Products Corporation
TEACHING COURSES
Undergraduate: Marketing Management, Marketing, Marketing Research and Prediction, Marketing Risk Management.