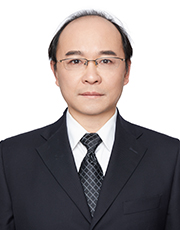 Jiong Wu
Office: Xuri Building 518
Email: whmang@dhu.edu.cn
research interests: corporate governance theory
INTRODUCTION
Prof. Jiong Wu, Male, Han Nationality, was born in Changzhou, Jiangsu province in 1971, is the professor of business administration in Glorious Sun School of Business and Management in Donghua University. The main research fields are corporate governance theory, firm theory, family business problems and so on.
Education
1998.09-2003.12 Management Science and Engineering, Southwest Jiaotong University, M.A. & Ph.D.
Work Experience
Since 2004.04 Glorious Sun School of Business and Management, Donghua University, Professor

1991.10-2001.02 Engineer, Zhongche group (Qishuyan factory, and Meishan factory), office director
Academic Experience
2007.09-2008.02 Boston university in the United States, Visiting Scholar
Honors and Awards
2015 National hundred excellent management cases

2011 First prize of excellent paper in International seminar on entrepreneurship and family business
ACADEMIC ACHIEVEMENTS
Journal Papers
Wu, J. (2016). The status, timing, and path of the remaining control of the family business--based on case studies by Haixin, Xieruilin and Fangtai, China Industrial Economics, (4):109-126.

Wu, J., & Xin, X. (2016). The legitimacy and its transition of family business growth, Nankai Business Review, (6).

Wu, J., &Li, B. (2015). The political relevance, human capital and cross-generational entrepreneurship of the succession of family enterprises. Chinese Journal of Management, (11):1638-1645.

Wu, J. (2014). The influence of family power cost on the concentration of family power. Chinese Journal of Management, (6): 808-818.

Wu, J. (2013). Family social capital, enterprise ownership and family enterprise spin-off case study. Chinese Journal of Management, (2): 179-190.

Wu, J. (2012). Independent director, resource support and enterprise border link. Reform, (7):138-145.

Wu, J. (2010). The family enterprise governance model under the special social capital externality. Economic Theory and Business Management, (10): 53-59.

Wu, J. (2007). From the origin of corporate governance to see its institutional governance connotation. Economic Management Journal, (19): 86-88.

Wu, J. (2006). The connotation extension and governance of modern corporation system: an analytical framework. Reform, (11): 86-91
Chapters, Academic Books, and Textbooks
Wu, J. (2014). Corporate Governance, Peking University Press.

Wu, J. (2016). Family Contract Governance of Family Enterprises: From the perspective of family social capital, Peking University Press.
Teaching and Research Projects
2016.07-2019.07 The study on cross-generational growth of family business under the restriction of legitimacy, National Social Science Fund Project(16BGL074).

2011.07-2015.03 Research on the division governance model of the Chinese familial enterprise group: based on the family social capital structure, National Social Science Fund Project(11BGL012).

2011.01-2013.05 The family culture characteristics and the governance of Chinese family enterprise property rights system under the external visual field of social capital, Humanities and Social Science Fund of Ministry of Education(10YJA630167).

2015.01-2017.12 Research on intergenerational transfer of control of family business, intergenerational adjustment of social capital and its interaction effect, Shanghai Education Commission Innovation Project(15ZS016).

2004.11-2006.12 A complete framework contract model of corporate governance rights and its empirical research, Outstanding Young Teacher Research Project of Shanghai university,